You might be wondering what exactly is Reiki all about. Oh, you are reading the right material at the moment. Reiki challenge helps to wake up your mental and physical state. Both mind, body, and spirit are strengthened and relaxed. That is its healing energy.
This challenge helps you develop Reiki's use every day in your life as self-healing, thereby living you with a healthy life.
Karen Harrison once said; we can raise the planet's consciousness through Reiki by beginning with ourselves.
WHAT REIKI IS ABOUT
Reiki is a Japanese form of energy healing, a subset of alternative medicine. Reiki practitioners use a technique called palm healing or hands-on healing. A "universal energy" is transferred through the palms of the one teaching Reiki to the patient to encourage emotional or physical healing.
WHAT REIKI IS NOT
Reiki is a pseudoscience whose beliefs and practices are claimed to be scientific and factual but in a real sense are incompatible with scientific methods.
It is a belief and practice with no empirical evidence or backup though it isn't without positive human review, i.e., Reiki is not a science.
Reiki is a pseudoscientific theory based on the metaphysical concept
THE PRINCIPLES OF REIKi
A Reiki practitioner places his hands on or above your body to redirect energy. This may help reduce pains and anxiety. In addition, it helps reduce depression and improve mood. There are five principles used in self-healing or practical Reiki.
You orally declare those principles positively. It helps heal energy, thereby giving you an emotional release of upcoming events. When you do these pronunciation principles for consecutive days, i.e., 21-day reiki, you tend to exert good energy. These principles include:
The principle of angry thoughts
When practicing your reiki self-healing, make a declaration that "I release angry thoughts today." Anger can be unavoidable, especially when dealing with humans. So this first principle helps you recognize anger and deal with it even before it spurs up.
The principle of worry or anxiety
To your awareness, declare it to yourself, "I release thoughts of anxiety and worry." Anxiety, according to Reiki, starts from within. You worry less about the future and things when you release your worries in a reiki session by focusing on the present. This also helps build your lively energy, and your body also becomes active.
The principle of Gratitude.
In your practice, say aloud, " I am grateful, just for today."Do this daily; it helps your mental, emotional and physical wellbeing.
The principle of consciousness:
Resound this; "I expand."
This principle helps you be well aware of your present state and yet appreciate nature.
Reiki Principle of Gentleness and kindness.
In your daily practice, say to yourself, "I am gentle with all things, including myself."
This principle encourages you to be gentle with yourself and others, which helps your spiritual health. It also makes you maintain a peaceful state all through the day for better health.
POSTURES AND TECHNIQUE
Most following symptoms of this practice are to sleep sufficiently after the day reiki. Reiki training helps patients to receive the benefits of it every day. Here are guidelines for a successful reiki self-healing;
Self-healing is an attempt to keep your physical body and mental health active through constant reiki practice.
Reiki energy is sure, with consistency and time given to it. Reiki energy also helps in being active all day long.
Reiki self-care treatment can be done either by taking a sitting posture or in a lying posture either on the bed or the floor, In the comfort of your home.
It is advisable to stay in a quiet environment or room, even practicing Reiki. You can also use inspiring music dance, which some patients prefer to control your emotions.
Relax your mind and body. Make use of a pillow on your feet and head if need be. And to keep your body warm, you can also cover your body with a blanket.
It is advisable to spend at least 20 minutes in your reiki self-healing.
When you are in for your reiki self-healing, off your footwear, relax your mind at your convenient posture, and maintain a steady breath. It helps you to concentrate well.
You can apply your favorite essential oils on your palm to renew your energy and also because it brings harmony, tranquillity, and joy.
You can also make do of Epsom salt bath to keep your breath freshened and keep you calm in your relaxing activities. Also, you can drink plenty of water to calm you down.
Silent walking meditation can also be adopted. For example, as you practice, try thinking about walking in nature. This helps greatly in healing energy. In addition, you can drink plenty of water before and after you give yourself a self-care.
HANDS POSITION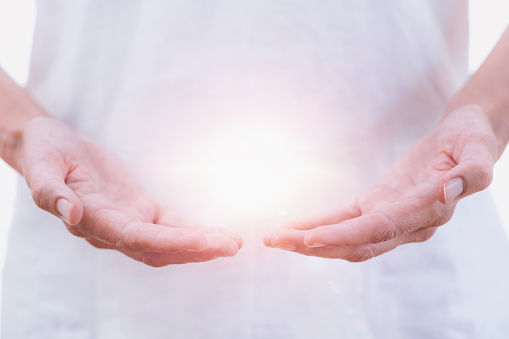 Hand position is essential in Reiki. Therefore, your hand is suggested to last for at least two minutes at every position.
1st Position: Position your hand in a praying manner right below your chin near your chest. It helps you focus your attention on your breathing.
2nd position:
Place your hands on your head.
Breathe in and out.
Concentrate on the hands softly placed on your head.
3rd position:
Put your hands away from your head to your eyes.
Try to put your focus on your hand and where it is located.
Do not disrupt your nose from breathing properly.
4th Position: Place your right hand on your throat and your left hand on your chest. Do not choke your throat.
5th Position: Allow the energy from your hands to flow through to the lower part of your breast with the tip of your hands touching each other.
6th Position: Shift your hand away from its initial position and let it rest below your breast line.
7th Position: Move lower to the stomach and navel part. Maintain a steady breath
8th Position: Go up to your shoulder muscles. Allow your hands to relax there.
9th Position: Above your waistline, allow your hands to rest therein to relax your muscle on the area where the kidney is.
10th position: cross your right leg above your left knee to reach your right foot, and then your left leg above your right left knee to have a good reiki level on your left foot.
To crown it all, with the ten hand position of 2 minutes daily practice, you would have arrived at a 20 minutes reiki self-healing every single day of it. You are making progress if you can have it done in 15 minutes, though.