Do you want to stay healthy and fit all through your pregnancy stage? Then, prenatal pilates is a real deal and a viable option for you.
As a mom-to-be, with your workloads, nature brings uncomfortable fatigue to your body and gives you a body shape you didn't wish for. I.e., the big tummy, the big round cheeks, and swelled legs, or the extra-large body entirely. So you really will be glad to know and understand "the what and how" of pregnancy pilates.
Is it the change in character or the behaviors that back up your entire pregnancy stage? You sure want to always ease yourself from all this unnecessary nature stress throughout your trimester.
For your overall well-being, this article is top-notch for you. So keep advancing in the knowledge therein as you read through it all.
What pregnancy pilates is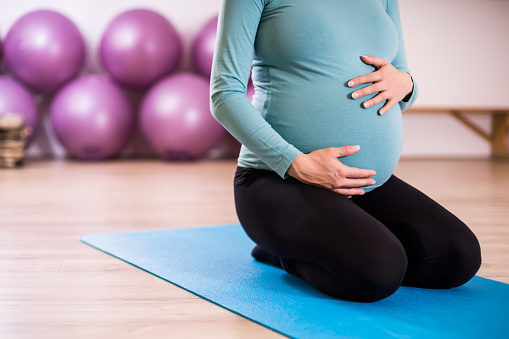 You might not be familiar with what pregnancy pilate is about; well, it's simply a solution to both your psychological and emotional stress or pains during your trimester stage. However, it is also a thing to get involved as a pregnant woman for your overall well-being.
Not all pilates workouts are accessible for pregnancy state. That's why the consultation of a pilates instructor is also essential.
Prenatal pilates is a form of exercise regarded as the best for pregnant women to keep their ever-changing bodies fit. It is vital because it meets the needs of waiting and expectant mothers.
Pilate exercise can not be practiced by all pregnant people because not all pilates workouts are free for pregnancy state. That is why there is a need for consulting an expert for prenatal and postnatal pilates.
Pilates is a series of exercises that is over 500, which is inspired by ballet, yoga, and calisthenics. It balances all the muscles in the body. It comprises good practices for building body awareness, strength, balance, and flexibility.
Pilates was introduced in the 1920s by Joseph Pilates. It aims at helping injured dancers and athletes come back safely to their field through exercise and maintain their fitness. Since that time, pilates has been made available to suit everyone in general.
Pilates requires focus and concentration because of body movement. Therefore, each Pilates exercise has a breathing, rhythm, and placement pattern.
There are no stressful workouts in pilates. Your intense concentration is all it needs, so there is no sweating or straining. Pilates workouts consist of various sessions that are usually performed five to ten times in a low repetitive format. About 45 to 90 minutes.
The equipment needed for this is Mat and other resistance materials.
This exercise suits everybody, for example, elite athletes, pregnant women, low fitness levels of people, and people limited by mobility. Etc.
Importance of pregnancy pilates workouts
It improves body flexibility
It increases your buttocks' muscle tone and strength, particularly your lower back, abdominal muscles, and hips.
It helps to stabilize the spine.
It helps your shoulder and back to be relaxed in balance.
Prevents muscle injuries.
It is good for stress management and relaxation dose.
Pilates increases the energy levels of a pregnant woman enabling her or serving as a backup for easier delivery.
It helps regulate breathing.
For an ever good posture, pilates is needed during your trimester stages.
It is good for the control of abdominal muscles.
Types of pilates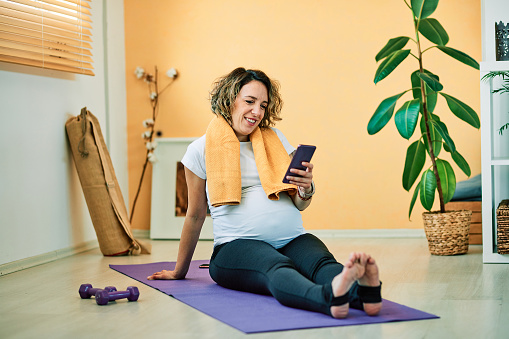 There are two types of pilates, namely Mat-based pilates and equipment-based pilates.
Mat-based: This involves a good number or series of exercises performed on the Mat with your weight and gravity as resistance. The main aim is to improve your body posture, coordination, and balancing by conditioning the deeper supporting muscles of your body.
Equipment-based: These are the equipment needed in pilates for balancing. It is usually a moveable carriage that you can pull and push along its track.
Different equipment used in pilates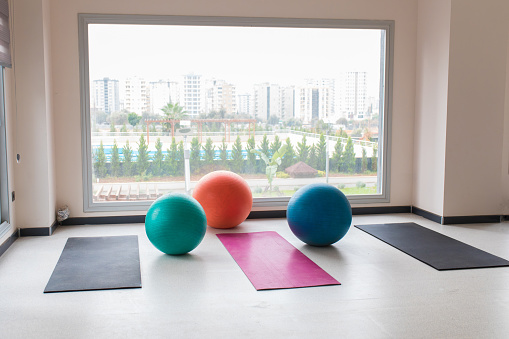 Pilates mat, resistance bands, pilates ring or the magic circle, pilates reformer, pilates Cadillac and Pilates chair.
Pilates mat: Pilate mat is not the same as yogas. The Pilate mat is usually thicker, larger, and has a slicker surface. There is a need for a thicker mat to perform your exercise because most of it is done on your back.
Resistance bands: This is similar to the magic circle. It makes exercises more assistive by offering resistance. It comes in various levels and lengths. It could be heavy, light, or medium. It helps to build strength.
The magic circle or pilates ring: This is a lightweight circular resistance prop used in both mat and reformer classes.
This is used in both reformer and mat classes. It is a lightweight and circular resistance prop that helps offer support during exercise. The resistance level is increased depending on how hard the mount is squeezed. In her trimester, do not squeeze hard to death as a pregnant woman. The magic circle could be used for another exercise, i.e., hip belt extension.
Pilates Cadillac: The Cadillac, also known as the trapeze table, is the most versatile and supportive piece of Pilates Equipment. The Cadillac looks like a four-poster bed; the apparatus comprises a leather-clad table and a metal frame with four uprights positioned in each corner. A trapeze bar, push bar, crossbar, and fluffy straps are attached to the frame and used for different exercises to aid resistance or its movement.
The Cadillac aids rehabilitation promotes balance, and also improves stability.
Pilates chair: Pilates Chair was invented by Joseph Pilates. Another name for it is Wunda chair. It comprises a wooden box with a pedal attached by springs and a padded seat. The springs release tension depending on the intensity. Performing your exercise on the chair, either seated, standing, or on your front or backache chair, is good for injury rehabilitation. It controls and gives strength to the foot and also enhances sports performance.
Parental pilates sessions workouts
Attending regular group classes conducted by a pilates instructor will help you catch up and encourage you during your pregnancy stage.
Below is how prenatal pilates emphasizes the pelvic floor, abdominals, and back. As a result, your body awareness increases, and you're prepared to push well during delivery.
First Trimester
This is the beginning of the pregnancy journey were the early pregnancy illness sets in, i.e., feeling nauseous, fatigued, ting, etc. You don't need strenuous exercise at this stage. Concentration should be on your breathing stability. Refrain from over-practice at this stage of your uterus expansion.
Second Trimester
This is the stage where the sticky feelings leave. However, there is certainly discomfort as your belly starts protruding, your changing body becomes obvious, and you are advised not to always lie on your back. Still, your side so your vena cava does not compress the baby from breathing well.
During your exercise, props and side-lying exercises are encouraged to support you from discomfort.
At this stage, compression of muscles should be done to avoid pelvic floor dysfunction.
It is advisable to get an instructor at this stage, even as a woman waiting to birth a baby. You need a teacher to guide you in your sessions.
Third Trimester
This is when a woman awaits and gets prepared to welcome her baby. Exercise at the trimester before this would have helped ease stiffness in your stem. A much-increasing stomach can cause around the shoulder, compressing the back in. Don't force yourself to stress. All the exercises would have helped your body prepare for the greatest athletic work of delivery.
Pilates practice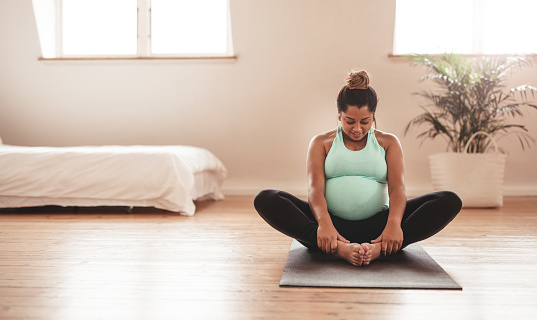 The Sword
• Spread your feet more wide away from your hips with your knees bent and your hands on your hips.
• With your knees bent, bend down with your right hand swept towards your left knee
• Like drawing a sword of a hip belt, sweep your right hand up rightward.
• After a while, switch to the other left posture. Then, repeat the exercise.
The sword pirates help strengthen the back, leg, and abs and improve balance.
Thigh Stretch
• Knee down on a mat in an upright position with your knees hip-width separated.
• Pull your abs in
• If necessary, for balance, put under your knees a folded blanket to be comfortable.
• As you lean back, inhale well with your hips kept up while squeezing your butt.
• With your arms up to your shoulder height and your palms down. Breathe well and bring your hips back upright while lowering your arms.
This lower backache strengthens the legs, buttocks, and hip.
Wag the tail
• With your aligned wrist under your shoulder, get down on your hands and legs.
• With your belly drawn in, lift your left knee to your side
• Be sure your shoulders are away from your ears, draw a circle with your knees; take deep breathing.
Repeat this by switching sides.
This pilates type increases stability and flexibility. In addition, it strengthens the legs, abs, and back.
Sword Arm
• As for your starting position, get down on your right knee with your right hand to the floor, directly under your shoulder, and not forward.
• With your abs pulled and your hips forward, rest your left foot on the floor, extend the left leg out to your side.
• look down and each of your hands to the floor, inhale, and steadily draw the left hand up to the air. Release your breathe as you look up to the raised hand. Repeatedly switch your position to the other left knee and right hand. The sword arm helps improve and promote balance.
Conclusion
Women experience differs during pregnancy; that is why you are urged to see the Doctor before the workout. In every one of your classes, your focus is paramount. This will be beneficial to you and if you need any support, consult your instructor. Eat good food for strengthening and watch your movements.
When the internal abdomen is pressurized, abdominal separation occurs. It's all thanks to your growing baby.